I Mean…What?!? offers non-traditional digital advertising and social media activations. We prefer to establish creative partnerships and develop spirited, engaging content through our unique editorial point-of-view.  A partnership with I Mean…What?!? offers targeted exposure to our extensive readership of media, industry-insiders and other influencers to extend your reach and strengthen your brand's perception in the marketplace.
Opportunities Include:
Custom content developed in collaboration with your brand so you can control your message (View sample).
Brand-exclusive banner advertising on IMW (300×600 and/or 300×250 units; see right side of page).
Email take-over of our monthly newsletter to 10,000 opt-in subscribers.
IMW Traffic:
Our philosophy is qualified visitors supersedes quantitative analysis.
We average 25,000–35,000 unique visitors per month (Google Analytics).
The IMW readers are forward-thinking and engaged consumers and professionals, the ideal demographic for fashion, luxury and lifestyle brands.
Preferred Audience: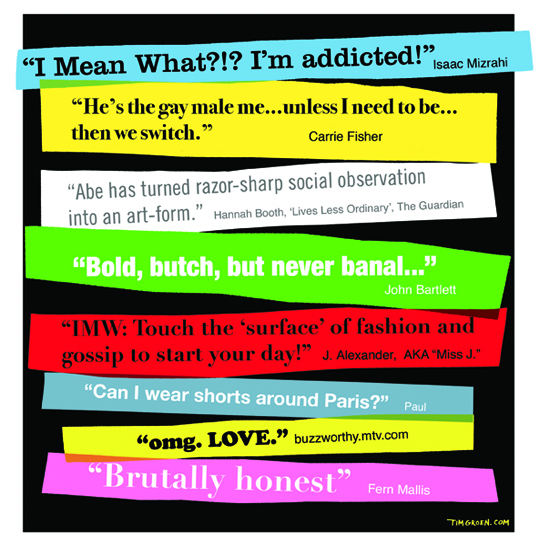 I Mean What has a qualified audience that is invaluable to any lifestyle brand. Our irreverent point-of-view serves as a unique platform that has endeared us to our readers.  This intimate relationship serves as a whisper in their ear and establishes a trusted point-of-view. Strategically introduced to a targeted audience of tastemakers, media influencers, the word of mouth of I Mean…What?!? reached an impressive milestone when Sportswear International dubbed it "one of the five most influential fashion blogs in the world."
Our Partners:
I Mean…What?!? is syndicated via Huffington Post and Manhattan Media (via Avenueinsider.com) regularly, delivering new eyeballs and increased traffic on a weekly basis.
Contact:
Contact Abe Gurko abe@imeanwhat.com for rates, detailed audience numbers or to schedule an appointment to discuss sponsorship opportunities.