Next week, Paris plays host to Couture Week where several extraordinary fashion designers will present their collections to a plethora of extremely wealthy women. The landscape of the Couture shows is ever changing to include a crop of new, younger designers such as Alexis Mabille, Ann Valérie Hash and Alexandre Vauthier. The world's favorite couture collections by Chanel, Dior (sans actual designer), Givenchy and Valentino will surely be the highlights of the week, while the new guard will be out in force, hoping to snag the spotlight. The good news is that there is a rise of couture customers because there are more rich people in the world, and countries like China and Russia have birthed a Litter of Ladies Who Lunch.
Besides the real Couture happenings in Paris, the term "couture" is being bandied about and bastardized by a group of fashion companies that use the term loosely. To that end, and I mean end, as in of the world, look at this recent claim from a Miami based designer, who uses the term couture in her company name, JB Couture. Are you sure?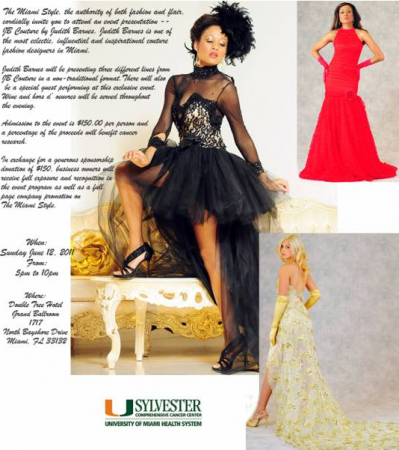 Then there is this thing called Couture Fashion Week in New York. Don't ask. Look at the logo.
Just click the image and peruse the website for this hag-fest. You tell me where you would rather go to see couture, Paris, Miami or New York. Now, I love New York. But fotz.