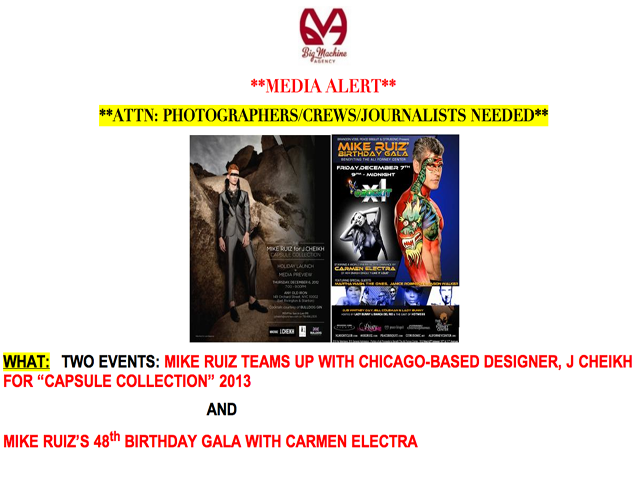 As a "media outlet?" I Mean What receives some ferocious pitches. And when I say ferocious, I do not mean in a lion that roars kind of way, rather, redonculous hullabaloo of the highest order. One such bibble-babble that I had to share with you below. Like one Mike Ruiz event wouldn't be enough for the hearty homo this holiday season. Now you too can clusgter fuck up holidays with two riveting festoons. This media pitch is one of the examples of why I recently declared: "I am no longer gay. Homosexual, yes. Gay, no."
As received in my in box with my comments in capital bold parenthesis.
WHAT:   TWO EVENTS: MIKE RUIZ TEAMS UP WITH CHICAGO-BASED DESIGNER, J CHEIKH FOR "CAPSULE COLLECTION" 2013 (WHO?)
AND
MIKE RUIZ'S 48th BIRTHDAY GALA WITH CARMEN ELECTRA (NOTHING LIKE CELEBRATING A LANDMARK 48th BIRTHDAY)
Celebrity and Fashion photographer, Mike Ruiz teams up once again with Chicago-based designer, J Cheikh for the Rock n' Roll inspired "capsule collection." The men's wear collection features edgy sport jackets and other classic rock-styled pieces. Ruiz's 4-piece collection (DOES FOUR PIECES A COLLECTION MAKE?) will be his second foray with his fashion prowess. (HOW DID ME MISS THE FIRST ONE?) Check out the inspiring line at the boutique shop, Any Old Iron this upcoming week. (ANY OLD DAY OF THE WEEK.)
Mike Ruiz's birthday will serve as a fundraising opportunity to benefit The Ali Forney Center, an organization that shelters homeless LGBT youth. Ruiz's goal this year is to raise $15,000 on behalf of the homeless LGBT youth cause. Artists will include DJ's Whitney Day and Bill Coleman. Performances by Martha Wash (DON'T TELL ME, SHE'LL SING IT'S RAINING MEN?), The Ones, Janice Robinson and Jason Walker. Special guest, Carmen Electra, will also debut her new smash hit single, "I Like it Loud." (I AM NOT TOUCHING THAT WITH A TEN FOOT POLE, NOT EVEN A LOUD TEN FOOT POLE.)
WHEN:  Capsule Collection Event: Thursday, December 6th 7:00PM – 9:00PM
Mike Ruiz Birthday Gala: Friday, December 7th 9:00PM – Midnight
WHERE:  Capsule Collection @ Any Old Iron
Birthday Gala @ XL NIGHTCLUB
Oy. Confused? I'm not. I am very clear that these two back to back events will not see the whites of my eyes. Thankfully The Ali Forney Center will benefit from all this hullabaloo.