Now Is The Summer Of My Discontent
Two nice days back to back and summer is officially here. This just shows how desperately I to cling to the notion that the winter is finally over; though deep down I fear that there is one more cold snap lurking. There are two times that I have moved to Los Angeles, both after long, arduous, bitter winters. First in 1989, returning five years later and then again in 1998 until 2003. New York is a great city to live and a great city to leave. It's a long story, not for now. My point is that summer is here. It is time to make some plans for when I write, "What I did this summer". Somewhere in April, I swore off New York City again and began planning to head out west, but am I going to do that again? Need to think, need to think. One thing I know, is that neither the Hamptons nor Fire Island will be my destination of choice this season. The New York Times Style has laid out all the best of the new Hamptons hot spots as well as a feature story on the commercial overhaul taking place on Fire Island Pines by Andrew Kirtzman. Just to date me, my favorite summers in The Pines were 1977-1981, pre-AIDS, when one would waft along the boardwalk and bump into Margeaux Hemingway stoned and Calvin Klein's house dripped with stunning blond beauties. After all, that was the best of times for New York City, when chic was an adjective, not a noun.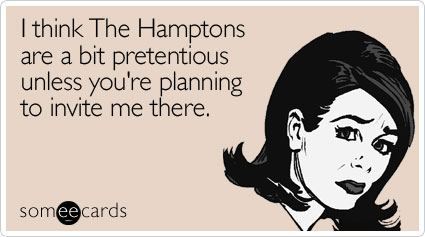 If I were a socialite in the Hamptons, I would be fatoozted as to where to go, which dinner to attend, art opening to swing by, club to drink at, home to visit. The pressure must be mind boggling. As for Fire Island, though extricating the Bohemian grunge might make the needy Baby Boomer's off-spring happy, it surely will lose the je ne sais quoi that it once had. Seeing Halston on the rickety steps of the old Pavilion, chatting with a lanky group of Burrow-ettes in flowing, silk caftans will forever best a group of shirtless muscle queens, teeth grinding. One can expect the malling of  The Pines, while the Bright Young Things of the Hamptons will be fabulous twenty four hours a day. These reasons make it hard for someone like me to find peace of mind out East. Perhaps this summer I will find some meditative quiet here in New York City, discovering old places and shops that have otherwise been forgotten. After all, there is no place like home.