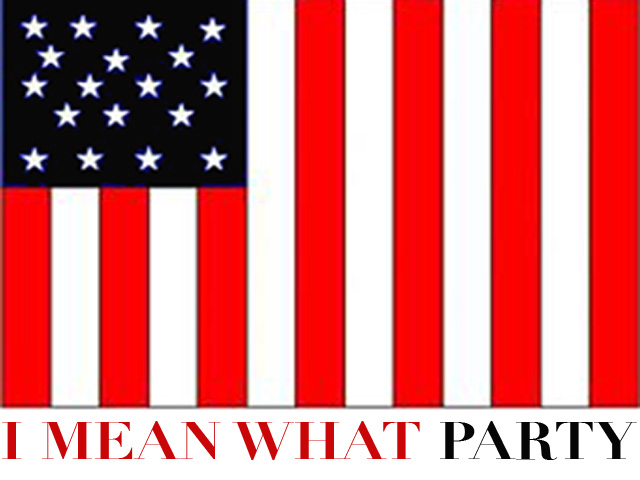 The I MEAN WHAT PARTY has succeeded in ushering Barack (we're like on a first name basis) Obama into his second term as President of the United States. Special thanks to the millions of people and other critical initiatives… for sure. But it is time to think of the next goal for this fledgling political party. Should we get behind Christine Quinn and help elect the first female Mayor of New York City? It may sound lofty but it is a very attainable goal. Actually, she is a shoe-in. That said, IMWP can go around selecting candidates locally and nationally (since I plan to go to LA this winter), but is that the best use of this brand? And since I hate the notion of "branding", then I really need to come up with another scam of some sort, since I much prefer the word scam to brand, especially because they are the exact same thing.
APRIL 5, 2012 – The Launch Of The I MEAN…WHAT PARTY
Introducing the I MEAN WHAT PARTY. This upcoming November election is the most critical presidential race since working on my first Presidential campaign, which was for George McGovern 1972. And please, let us not repeat that outcome. This has been the scariest Republican primary, featuring debates so over the top and bloody that they remind me of The Hunger Games. The Republican audiences watch will glee as the nominees go for their opponent's jugular, not to mention the sheer venom being spewed at the ultimate rival, Barack Obama, the Katniss of this political season. What is the difference between the audiences of the recent Republican debates and the uber-dandies in The Hunger Games who get their thrills watching the killings of the teenagers from the 13 Districts. Not sure which Capitol is scarier.
Since Gross Baboons can create a political party (Tea Party, hello), then so can I. Therefore we officially announce the kick-off of the I MEAN WHAT PARTY to Re-Elect Barack Obama. Believe me, he will need all the help he can get because no one is safe from the wrath of the Vast Right-Wing Conspiracy. Just ask Hillary Clinton. Besides, most people have the attention span of a gnat. You think the Etch-a-Sketch theory only applies to Mitt Romney? Sadly, many Democrats and Independents have turned their cheek on Obama. Matt Damon can pontificate all he wants about how Obama did not live up to his expectations. And while we are at it, We Bought A Zoo did not live up to anyone's either. I would really like to know whether Damon will pull the lever for Mitt Romney…. or would he prefer that Rick Santorum be the nominee. Wouldn't you just love to know?  In the coming weeks, while Stiff McGillicuty and "Salem Witch Hunt" Santorum duke it out to a bloody Hunger Games-ian finish, and Newt Gingrich gets to kick sand in the face of the one that loses that epic battle, the I MEAN WHAT PARTY to Re-Elect Barack Obama will roll out our strategy on how we will do all we can to support Barack and Michelle Obama. The goal is to galvanize the people with a brain and a heart that read what the Republicans are up to and say, "I Mean…What?!?"