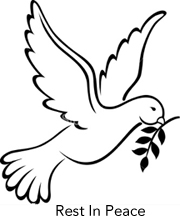 I was watching the BBC here in Iceland this morning and the big discussion was about the coverage of Jade Goody's death. Jade, for those of you who don't know much about her….ahem…me…was the star of Big Brother London in 2002. Huge star (?) . But what she did was take the flash of fame and turned herself into a media star, so that when she was diagnosed with cervical cancer, she sold the rights of her story to TV and pretty much died on TV, like Cashmere Mafia. But the discussion this morning on the BBC was not about the fact that she died, or that she sold the rights to her dying, but in the aftermath of her death, there was still plenty of time allocated to her life on the BBC News. There seemed to be a bit of backlash from the public about that and one viewer wrote in, "Is this the only news in all of the United Kingdom?" It reminded me of when Tim Russert died and the endless coverage that received. Which got me to thinking about how much death plays into the life and legacy of a celebrity. Surely Tim and Jade were dynamic and wonderful and this by no means is trying to diminish them in any way. But if we take a moment to look at who dies best, in celebrity wattage speak, then we have a topic for conversation that is riveting. No one dies better than Presidents, sitting or otherwise. And it will be interesting to see how the media covers the deaths of the George Bush's not too mention the public sentiment…if there is any. We know that Clinton will yield massive coverage, in fact, I am sobbing  at the thought of his passing. I was in Los Angeles when Ronald Regan died and the coverage of his funeral was borderline hilarious. The critical moment surely was when Morgan Fairchild approached the casket and started sobbing hysterically. You think she knew the cameras were on her or what?
Natasha Richardson received plenty of media attention. And what's interesting is that she was famous yes, but not that famous or in the public eye enough to warrant the extensive coverage. It was the tragic misfortune to how she died that captured our hearts, so that the coverage was well warranted. Her sad story made us realize how fleeting life really is and with her, we buried a piece of our invincibility. Losing Natasha proved that seemingly the littlest blow can end it all, just like that. Heath Ledger surely died with high marks as his postmortem Oscar shows. Not that he wasn't amaaaazing in that film and deserving, but I do wonder if he would have won otherwise. Josh Brolin wonders this too. Paul Newman, whose legacy is far reaching surely didn't get enough coverage. Not that this is Celebrity Death Match, mind you, but friggen Paul Newman? Brilliant actor, activist, and salad spinner. He was surely worthy. And who knows, maybe if Charlton Heston didn't become the poster child for the NRA, he might not have gone out with a whisper.
Rather that drone on and on about this, I just want to say that death never becomes anybody. It may do wonders for my figure, but I'd sooner continue my life-long battle with those extra 4 to 8 pounds (that I swear would make me so happy when I lose it) rather than be skin and bones like Allegra Versace.