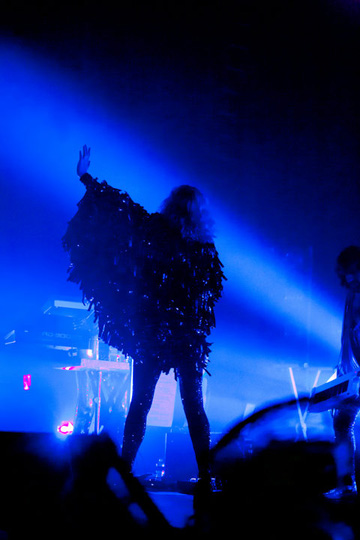 NOTE: This review is by my assistant Ryan McNally, my go-to person for music stuff.
While past tours, notably 2006's Supernature featured Alison Goldfrapp seeming rather unsure of herself and getting lost in the stage production (I am guessing the current recession cut their budget for back-up dancers for this tour), she has finally taken charge of her show and the touring band, and comes alive on the band's most recent material. And by this I mean she is actually moving. Past tours has featured Goldfrapp belting songs that have topped the dance charts with the front woman literally just standing there. So with this being an improvement over past live shows isn't saying much, but a compliment is a compliment.
Their recent album, Head First is where the new and improved Goldfrapp Live really came together. The material, 80's synth and keytar, (yes, key-tar) driven, flows flawlessly with their past material, and they even bought along a fierce female key-tarist. For Rocket one of their biggest, and most recent hits, they turned the concert into a giant sing-a-long, complete with fog and wind machines on full blast (which is what every pop star needs to implement into their live act no matter what).
With a decade of touring now behind them, the band knows what their audience wants to hear, Goldfrapp gave the highlights of their five albums, which showed the band's work as surprisingly consistent. From the folksy and ambient A & E to the electro pumping Train Goldfrapp spent a good ninety minutes doing what they do best, with nearly no filter. In some kind of musical crossroads, this concert was where Donna Summer met Kate Bush, to homosexual utopia results.