What a weird day for news. An octogenarian storms the Holocaust Museum? What is this man's fitness and diet regiment and get me on it right now. That this guy, who most probably had arthritis could be so swift as to outmaneuver a security guard, lift a rifle and boom? I mean…what?!? This tragedy struck a chord deep within me as my mother was a Holocaust survivor. If anyone had the right to be a hater, it was her and her friends that  survived the concentration camps. Not some old, gross, goat who survived St. Louis, Missouri. In fact, hate was NOT my mother's M.O. On the contrary, she consciously raised my sisters and I to be "good people". It was her mantra. This is what she demanded of us. Having looked into the eyes of the devil, she witnessed the horrors of human nature, which sadly exists to this day, and will, till the dawn of time. My mother made us aware of the evils that lurk, but that two rights do not make a wrong.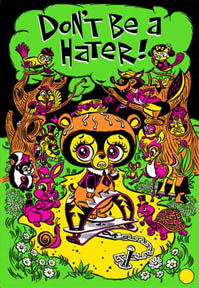 What in tarnation did this 88 year-old, crotchety, anti-Semite, bigot learn from his family? Hate? I don't understand the festering of hate. I wish I had that much time on my hands. But I don't, 'cause life is short and every day counts and to spend it filled with hate seems so pointless. Anyone who has this much hate in their soul and is currently contemplating such a heinous act, should just point the gun on themselves…and bye. What is so astonishing is that Jews and Blacks continue to be the objects of white supremacists, yet there is little collusion between the two factions to combat this hatred. If ever there was a time for us to Kumbaya, this is it. With Obama as our new leader/role model, now is the time to reset the stage of unity and community. To seek out these white supremacist bastards and kick the living shit out of them. One by one. Sorry, I am not my mother…I think we have to fight fire with fire.
Breaking News: Another hate crime in New York City occurred when two boys killed a Chinese man. What's with this hate nonsense? The two teens were noted to target Asians in the past. Nice society we live in.