Now that I have your attention, here's what I am wondering about. Not that Linda Lovelace isn't riveting, but I am referencing the Deep Throat from Watergate. Let's face it, if I put up a picture of W. Mark Feit, you'd not even get this far.
In every corporate or political intrigue, there are unwilling participates, albeit with great hesitation. They are conflicted because it goes against their better judgment, moral fiber, values; however, they simply are doing their job. You know, like Nazi-lite. So my question is, where are all the Deep Throats of the financial calamity? Are you trying to tell me that there isn't a boat load of unwilling participants that knew how wrong these sub-prime mortgages were, or noticed all these weird, jillion-dollar, Madoff-Ponzi-scheme checks, or were horrified at those top level meetings at Citibank on the eve of ordering their new jet or million dollar redecoration plans. Where are they all? Afraid of losing their jobs? Afraid of being murdered? What? Come one. This whole corporate intrigue stuff is so hokey.
I saw Duplicity last night with Julia Roberts and Clive Owen.
Though the movie is delicious-to-look-at, lite entertainment, more importantly it centers on corporate intrigue and things that really, if you think about it, make large corporations look like they are run by such a bunch of moronic buffoons. People you wouldn't give two shits about or would want to spend two minutes with and frankly, wish ill will. And anyone that screws over Julia and Clive deserves to go to the pokey. (Corporate=Doing the Hokey Pokey)
And this is why I got to thinking. Where are all the people that surround those people? In every office, in every bank, in every brokerage firm, at the Big 3 car companies, in the Congress. Where are our new Deep Throats? Is it just too soon in the game before they come forward unable to live with their guilt and start tipping off the Feds? And since just about everyone in Washington now has dirt on their hands, where would these Deep Throats go to? The newspapers? (Do they yield as much power as in the case of Washington Post in the early 1970's?) Perhaps The Huffington Post, my online bible?
All this outrage about the money comes down to a very simple rule that Deep Throat (not Linda) told Woodward and Bernstein, "Just…follow the money." And it is with this I say to prosecutors, journalists, online and newspaper editors, the angry-at-AIG-mob and Katie Couric, go…find your Deep Throats. Help bring all this to light once and for all, so we can really see how despicable these greed mongers are. Let's not forget that Greed is number three of the 7 Deadly Sins hit parade, with a bullet.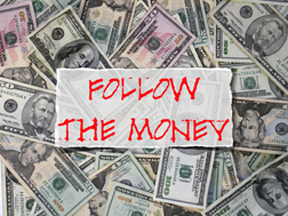 And perhaps most importantly, we should expand all college curricula to include:
ETHICS 101
THE BUSINESS OF ETHICS
ETHICS=TRUE SUCCESS
THE ETHIC OF ETHICS
MASTERING ETHICS
ETHICAL CULTURE
ETHICS FOR DUMMIES