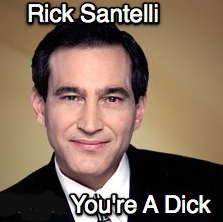 What's with all the attention being thrust on CNBC, that stupid little, wanna-be-important, financial TV news service based in Fort Lee, New Jersey…the what…financial capital of the world? Is enough ever going to be enough? This putz Rick Santelli is enjoying every last minute of coverage he's getting…insults and all…'cause remember, any press is good press. And that Senator Jon Kyl (Republican barf) is no better.
These two clowns are implying that the AIG payoffs are "no big thing". The only no big things here are the size of your dicks. 'Cause surely they have little dicks, which render them entirely useless. Honestly, they are both assholes. I know, spewing toilet humor is so beyond me…but who can listen to these people? And if every media outlet is going to give these guys unprecedented visibility and airtime, well, then here you go…toilet humor plenty.
If we are ever to move on (speaking of which, what ever happened to moveon.org), we are going to have to ignore these loud mouth bafoons and let them eat cake. Some dry, old, stale peice of cake.