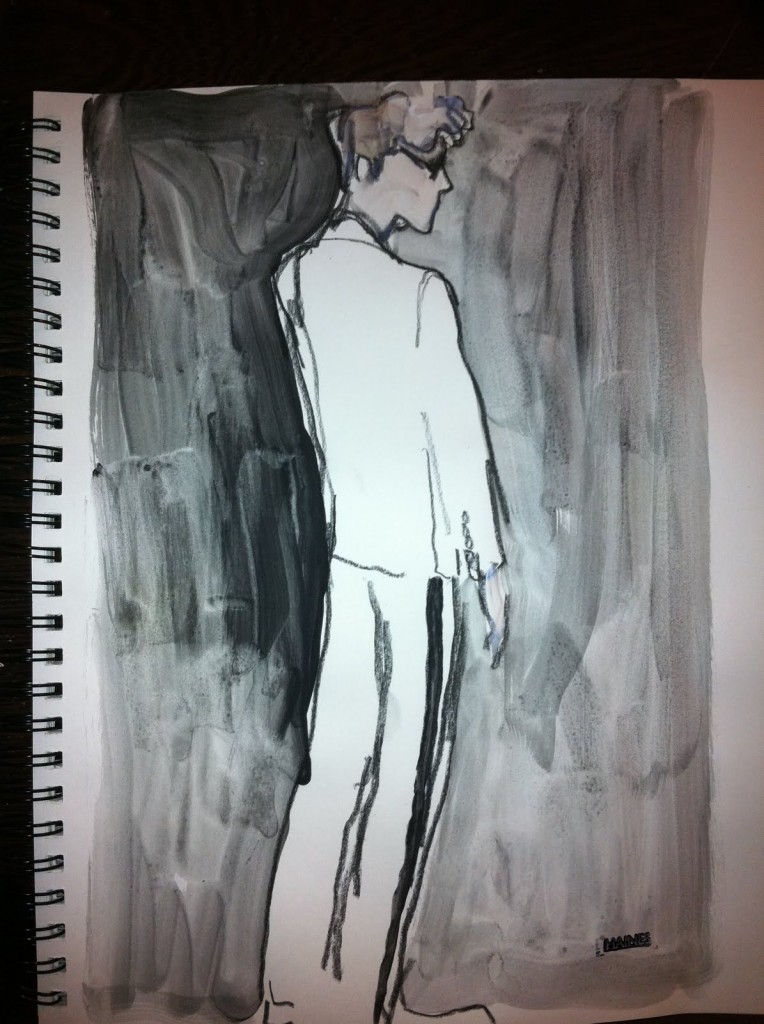 My freind who used to be the creative director at Lord & Taylor told me a remarkable story. Their ads used to be exclusively fashion illustrations—it was their look. One time, The New York Times ran a full page ad, featuring a particular designer, except somehow the Lord & Taylor logo was left off the ad. That did not impact the sales of that item, at all. Now, that's iconic imagery. In that same way, the illustrious illustrations of Richard Haines reminds me of that story. You recognize a Richard Haines illustration from a mile away, even in the dead of night. There is a moody, sexy, innocence that I adore. What Bruce Weber did for photography in the 1970's for men, Richard Haines is doing now for menswear with his illustrative style.

ABE FOR IMW: What was your first illustration job?
RICHARD HAINES: I was about sixteen years old, it was for a very posh shop in Alexandria, Virginia called Frankie Welsh. The shop was in a townhouse in the fancy part of town and I was mesmerized by the chic Art Nouveau wallpaper, the beautiful clothes, and the elegant Frankie.
ABE: I used to love Roger Duncan's work, which illustrators inspired you?
RICHARD: I worship Antonio (Lopez). I remember seeing his work in The New York Times in the 1960's. It was so perfect and captured that moment so well. In a more classical sense, I love the works of the artists from the 30's, 40's and 50's like Eric, Rene Bouche, and Rene Gruau, these guys really knew line and shape. Breathtaking. My ultimate heroes are Christian Bernard and Cocteau.
ABE: What was the first illustration job that made you think, "I made it!"
RH: That's funny. I've never thought that. Not once. It was pretty thrilling to go to Pitti Uomo for The New York Times and work the shows with Bruce Pask. That was kind of a 'wow' moment, especially because the first illustration I ever saw—and became obsessed with—was in The Times when I was ten years old.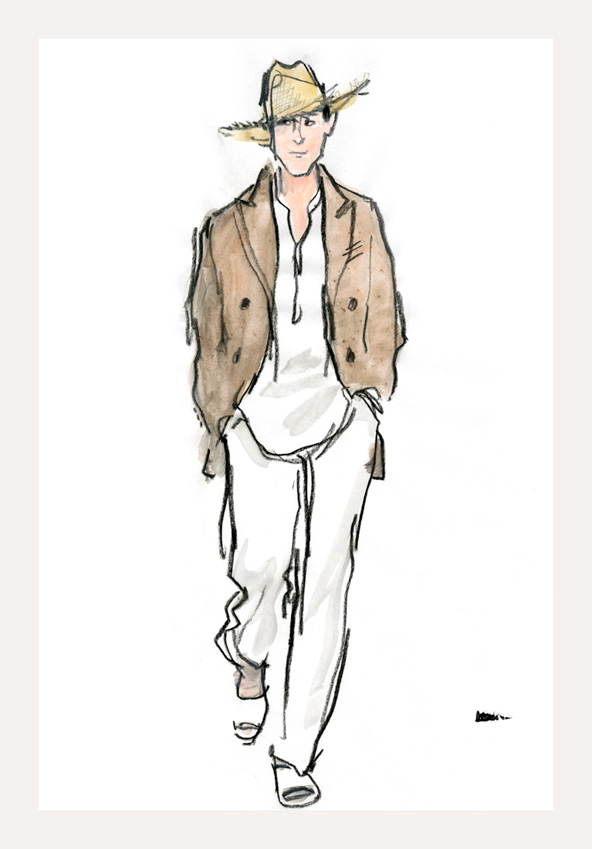 ABE: Which menswear collections do you love?
RICHARD: Engineered Garments, Nigel Cabourn, ts(s) and Prada. Oh, and I flipped for N.Hoolywood. It's like they did the casting in front of Metropolitan (Brooklyn gay bar) on a Friday night.
ABE: Your illustrations depict men as stylish and masculine, so is that your idea of 'men'?
RICHARD: Masculine is a funny word. I love guys who are completely into being masculine and feminine. Masculine is being secure, considerate, seductive, comfortable in ones' skin.
ABE: Where do you live?
RICHARD: Bushwick. One thing I love about living in Brooklyn is meeting a whole generation of guys who are borderline Cockettes.
ABE: Really? Fantastic. I loved that documentary. It's the first time I am hearing about this.
RICHARD: They play with gender and drag in a new way. My all time favorite looks is what I call Art Boys, which is stylish, at times masculine, at times feminine. It's a mix.
httpv://www.youtube.com/watch?v=TDHmgGHzDW0