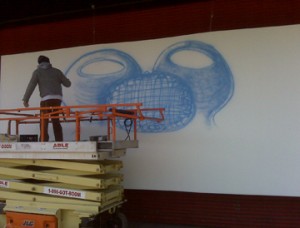 I caught renowned artist Kenny Scharf creating the outdoor murals at The Armory Show in New York City, which opened yesterday. The VIP preview started at 3PM, so naturally I got there noon, but was allowed access by the event's producer Paul Morris, who has taken on quite the challenge by expanding the show two-fold in an economy that warrants "the scale back". And I say kudos, girl. The sense I got walking through two very long piers filled with art is that the creative community is sick and tired of all the doom and gloom in daily conversations, news reports and headlines. It is time to raise our consciousness by focusing our efforts on things of beauty…a.k.a. art. I bet there will be a surprisingly great turnout this season at The Armory Show.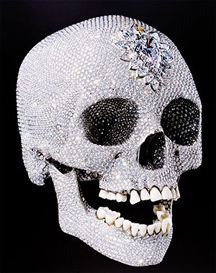 That said, I also understand that Art Basel is expanding the program for Miami, which speaks to the confidence in the art market, and sets the tone for other luxury goods worldwide. OK, maybe the $100,000,000 (yes that's one hundred million dollars, I Mean…What?!?) Damien Hirst Diamond Skull (a.k.a. For the Love of God) will not sell, but that does not mean that the art market is dead. It means that the state of bling and excess is. And two snaps up to that! I am so over the top tier of everything; overpaid bankers, unnecessarily overpriced fashion, gas guzzling SUV's, anything that feeds pretense. It's over, doll.
Hallelujah and Amen to that.