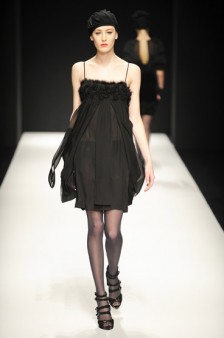 Steinunn just showed in Milan and for those of you who could not attend, here are a couple of images. She continues to do great little black dresses. In addition, she has a knitwear group in grey (the color of the season) that I call perfect for Apres Ski. You know, after a long day on the slopes in Gstaad, all you want to so is look fierce and and hang out in the ski lodge, nestled by the fire, getting tanked and looking to get lucky. This fringed knit group has that come hither quality while keeping you warm and toasty. I, for one would hike up the skirt more, but then again, what do I know, I don't winter in Gstaad. I winter in less exotic places, like New York City or Los Angeles.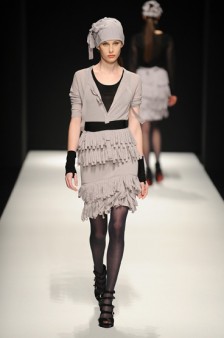 Steinunn Sigurd always throws in a color to shake things up and this season she was inspired by the Northern lights of the Aurora Borealis. Hence the uber-vibrant electric blue (as shown) on this adorable cocktail number.
Naturally there's a lot of black in the overall collection, and in some ways that's fitting for the current global economic situation, especially in Iceland where they are mourning the value of their Krona. That said, even in bright economic times, everyone looks better in black, period. We Gurko's have a saying, "We look better in black than naked". Though I do like a hint of color in my life and grey is surely sophisticated, the point here is: black will always be the new black!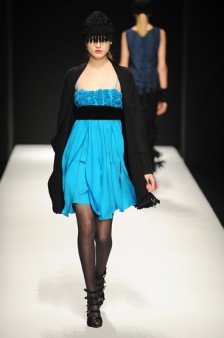 The other thing about Steinunn (that I love) is that no matter what WWD declares as the trend from the runways, it is always present in her collection. Today's headline is "Trench Lesson" and here is Steinunn's version, in black boucle. And yesterday is was "All About Shoulders". And the day before is was all about "Grey Matter"…any way you slice it…she has her finger on the pulse, it's just a hard time for independent designers to claw their way into the fashion vernacular. Anyhoo…just wanted to share some images with you.
Have a groovy day. I'm off to The Armory Show to shop for art. Or look at art.
xoxo
ABE