Crushable called me to chime in on the whole Lindsay Lohan debacle. And a debacle it is. I think that judge was a little heavy handed with Lindsay. There were enough evilinas wishing her hard time, whereas, rehab was what I was hoping for her. Well, guess the evilinas won this round. But as to whether she will make a come back…duh…of course she will. Here is the article from Crushable.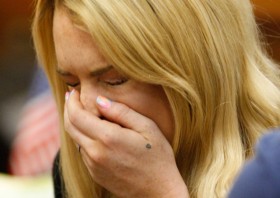 Lindsay Lohan has been in trouble with the law for awhile, but back in May, when she got stuck in Cannes after claiming her passport was stolen, we asked public relations pros to offer her some advice. Today, after Lindsay was sentenced to 90 days in jail yesterday, we went back to those same pros and asked them — can Lindsay bounce back from this?
"Having recently worked with Lindsay on the Complex magazine cover shoot, she may have been a little late on arrival (it was Mother's Day, they were out to dinner), but she was a consummate professional," PR pro Abe Gurko of ABE NYC INC and the blog I Mean…What?!? told Crushable. "I think she has been in the business long enough to know how to be, and is just young, hence she thinks she is invincible. Sadly for her, she is wrong and played a bad hand. A really bad hand."
Abe said he's certain Lindsay can bounce back. "Say what you want about her, she is mega talented and will be given every opportunity again," he told us. As for her post-prison plans, Abe advised her to keep a low profile, attend theater classes or maybe go to college like Jodie Foster. "I would love to see her do theater and strip away that facade," Abe advised.
At the very least, Lindsay should avoid going out for at least six months after jail and rehab, Abe said.
"I absolutely think Lindsay can bounce back from this," agreed Dayna Ghiraldi, president of New York-based Big Picture Media. "Think Robert Downey Jr. or Mickey Rourke or Britney Spears or Hugh Grant or any of these other celebs who have hit rock bottom. We love to judge our celebs, but we love nothing more than a strong comeback story! She has been through a lot and I wish her my best."
And Dayna, who was eager to rep Lindsay back in May, said she would still be up for working with the embattled actress. "Underneath what is going on right now is actually a talented woman," Dayna told Crushable. "She just needs guidance and honesty."
Watch the Lindsay Lohan Behind the Scenes at the Complex cover shoot.