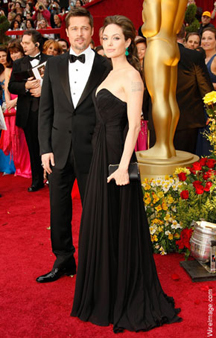 Poor, poor New York Post. They have actually stooped low enough to trash Brad and Angie, Hollywood's golden couple. Today's article by Danico Lo scolds The Branges for not stopping to talk to Ryan Seacrest or Tim Gunn. I mean…what?!? Honey, just cause YOU would stop and talk to anyone who will listen, does not mean that our coolest, smartest, hippest, most rooted in fabulous Hollywood couple should stop and talk blather with the likes of Tim Gunn, who looks like he drools while gushing or Ryan, who I think is great, but let's face it, red carpet questions are beyond inane.
Danica, admit it, you are as obsessed with them as everyone else (except Jennifer Aniston, who I am sure has a voodoo doll with long brown hair), which is why you want them to stop and talk to anyone who will ask them something riveting like, "Whose jewels did you borrow", or "How many dresses did you have to chose from" or even "Have you thought about your acceptance speech". (Which in the case of Brad or Angie was a waste of their time to think about.)
My point is, old glamorous Hollywood stars would NEVER, EVER stop and talk to anyone, let alone admit to borrowing clothes. The studio system was far too sophisticated for that nonsense.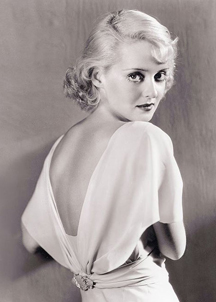 Bette Davis would look you square in the eye, or rather, look right through you and just keep walking. 'Cause that is what real Hollywood stars used to do and should be again…like our Brad and Angie. Really, do you think Clark Gable and Carole Lombard would ever stop to blabber on and on about their minutia? Get with it, girl and all you you who expect talent to just chit chat about what douche they use. I don't need to know to much information (T.M.I.) about them. Why, pray tell,  do you?
I say, let's go back to when Hollywood offered the mystique of glamour. And anyone else can just bask in the twinkle of the stars.
To read Danica Lo's article in the New York Post.