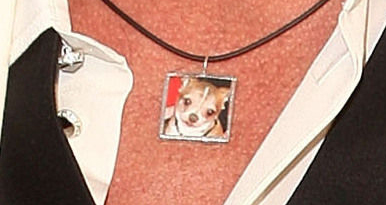 Poor little Loki…the sweet Chihuahua that Mickey Rourke would have definitely taken to the Oscars last night was in heaven watching from above. As someone who also lost their beloved Chihuahua Lucky to the great beyond, I feel for Mickey. His acceptance speech at the Spirit Awards was great and his moment of sadness about Loki was touching.
Now, onto the show and the blog entry at hand. I have been reading reviews of last night's telecast and are these people kidding?
That show sucked. First of all sexiest man alive is one thing but turning the Oscars into the Tonys is not my idea of an upgrade. It's astonishing that half the crap that filled the three hour plus evening got OK'd by the producers. Or better yet, "what a great idea". It's like bad Mickey Rooney.
I did like when prior Oscar winners came out and talked to the nominees about how fabulous they are. As if they don't know it already seeing that they are at the top of their game, but still, who doesn't want to be well-wished by the likes of Sophia Lauren or Robert De Niro?
The big musical number? I mean……….what?!? It was an abomination. And if the musical is back…please let that overblown number not set the tone for future Oscar telecasts. To quote Valerie Cherish from The Comeback, "I don't need to see that!" or, rather, "I don't need to see THAT!"
OK, Slumdog Millionaire was enjoyable…but enough already. That unnecessary scene in the movie when the brother gets into the bathtub with all the money and dies stuck in my craw and I can't get it out. And when a film has a lame, gratuitous scene, it's hard for me to be all obsessed, as all of Hollywood seems to be. My gueess is that India has some serious money for financing films, hence all the sucking up to Mumbai and Bollywood.
Other odd moments were Jennifer Aniston and Jack Black bantering as the camera cut to Angelina, her thinking, "Brad, how did you do THAT for so long? Don't touch me." And Jerry Lewis coming out making weird faces. Yikes. I could go on and on, like the awards show did, but I will spare you.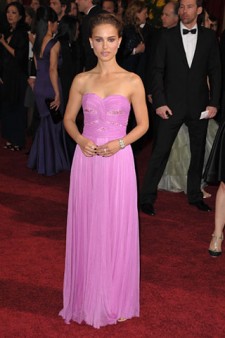 My recommendations to producers Larry Mark and Bill Condon are:
Bring back either Ellen or Whoopi to host.
Ditch the retrospective film montages.
Hurry up with those technical awards.
Expand the red carpet stuff cause in the end, that's what really counts.
And no more groveling by red carpet arrival show hosts to the talent in an effort to get them to come and say hello…that means you Tim Gunn.
My favorite dress? And the winner is…Nataline Portman in Rodarte.