It is not often that I go to a gay wedding…you can count them on one hand. Not that there's anything wrong with it. The idea of gay marriage resonates more for the gay community at large than for me, though I support it wholeheartedly. Just not sure whether it is something for everyone. Not being a bigot here, I believe the same holds true for straight marriage as well. All that aside, my friends Annie Washburn and Emily Giske tied the knot yesterday in the loveliest setting on Cape Cod…Provincetown to be exact…duh. But it was moving and sweet, and having been the one to introduce them, it was a touching culmination of two ships passing in the night…only to end up docked at the harbor of P-Town.
Anyway, if you know me at all, you know what a cynic I am about these things. A year ago I wrote a piece, I Mean…Gay Marriage?!?: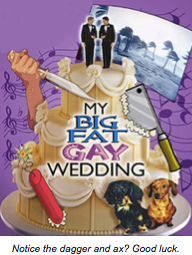 It's time for me to chime in on this gay marriage issue. Clearly I am not an opponent nor am I a proponent either. I'm from the school of "live and let live", so if two gay people want to get married…by all means, make it legal in every state, you have my blessing. I think you're nuts…but go right ahead. The notion of marriage has always seems a bit archaic to me, straight, gay or otherwise. Monogamy is a challenging notion that defies gravity: that which is forbidden becomes obsession. Yes, there are those lovely exceptions; couples that are perfect for each other…harmonious…the ideal couple. I've seen that maybe twice. Other than that, it's "Relationships are tough, I feel trapped" or "What an asshole" and "Not tonight, I'm not in the mood" as a rule of thumb. I should know, I survived an eleven year relationship.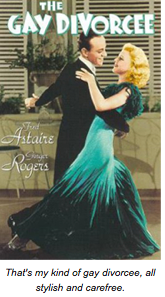 I went to my first gay wedding in California in 1999. It was a gorgeous affair in Montecito (where Oprah now has a house)  attended by the couple's 100 closest friends in a grand, Spanish-style mansion built in the 1920's. We all stood in a large circle on the sprawling grounds as the couple went around in the circle, "honoring" each and every one of us for sharing in this momentous occasion.  I attended my first gay divorce, six months later to the day. Same house, less lavish affair. I knew then that gay marriage was a sham just like straight marriages, except for those rare exceptions like Ellen and Portia or Elton and David (and now Annie and Emily).