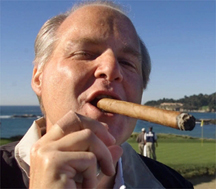 Here are the leading perpetrators of hawking way too much Republican manifesto blabber, and they need to stop. Better, they need to shut the fuck up while we try to calmly navigate through the uncharted waters of getting this country through an unprecedented financial crisis, the largest in our lifetime.
I am not eloquent enough to go on and argue the Democratic side now populating the bloviator news channels, but what I do know (as a layman) is that whatever these clowns were saying over the past eight years DID NOT WORK and a big reason why were are where we are now.
SOOOOOO, SHUT THE FUCK UP! And let's give Obama and his wife's arms a good long chance to work this out. And as for CNN, MSNBC, FOX NEWS, CNBC and any other desperate-for-viewers news channel: shame on you for giving as much time to these guys and their friggen lip service. I am sure I represent the masses when I say, "Just chill with your friggen opinions, it's not your turn at bat. You struck out!" It's not like we are asking for 8 years, how about shutting up for 8 months. Let's see what Obamski can do. Remember that time flies and if the stimulus package, doesn't work, or start making a difference, then OK, you can open your traps and spew that same old bullshit. Just not now!
Note: I was going to include a picture of Bobby Jindal here, but clearly we will never hear from him again. What a maroon.
FLASH: THESE CELEBRITIES ARE REPUBLICANS, AND I AM  MORTIFIED!(List from Indopedia.org, the Indoligicsal Knowledge Base)
Shannen Doherty…I guess will "love to hate Brenda".
Clint Eastwood…I don't know whose day he thinks he's making…but it sure ain't mine.
Heather Locklear…no wonder she ended up in rehab…guilt!
Mary Kate and Ashley Olsen…say it ain't so!
Adam Sandler…a Jew? Wierd.
Lara Flynn Boyle…known nutbag.
Dean Cain….used to be such a hottie…now just fat.
John Malkovich…Joe Pesci…James Woods…Bruce Willis…are these guys kidding?
Sarah Michelle Gellar…bummer, cause I like her.
Jennifer Love Hewitt…she'll do anything for attention.
For the complete list to make you brech (which is vomit in Yiddish)….click here.