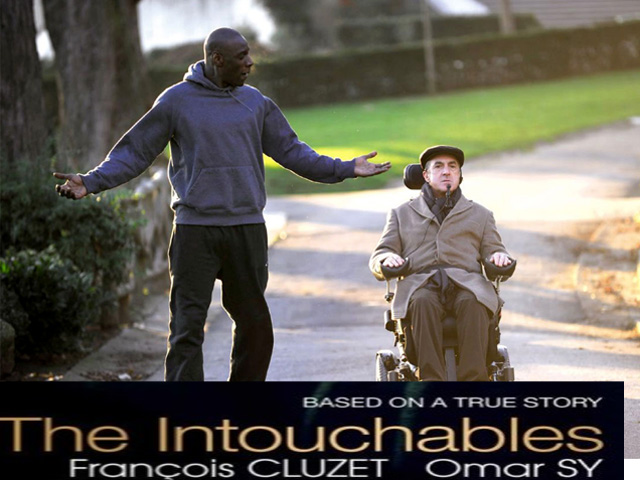 When I walked out of Bryan Bantry's screening of The Intouchables, France's most successful film of all time, I turned to my friend Alfie and said, "Harvey Weinstein better not remake this movie." She instantly agreed and we both started vomiting at the thought of an American remake of such a sweet, poignant film. Let's face it, "poignant American" is an oxymoron and those words cannot sit comfortably in the same sentence. The conversation went something like this:
EXT. WEST 58th STREET – BERGDORF GOODMAN WINDOWS (ACROSS FROM THE PLAZA) – NIGHT
ABE: Ewww, Will Smith as the black guy.
ALFIE: Kill me now.
ABE: Better yet, Will Smith as the white guy.
ALFIE: You know Tom Hanks will be all over this.
ABE: Could be billed at the most annoying pairing since Adam Sandler and Al Pacino.
ALFIE: They did a movie together?
ABE: I rest my case. So annoying, no one saw it.
ALFIE: Meryl Streep, they can make it a chick flick.
ABE: Good one and they can cast Octavia Spencer, who can force feed Meryl the shit pie.
ALFIE: Nicolas Cage, make it a psychological thriller.
ABE: Love it. Russell Brand can be the caretaker and Nicolas Cage figures out a way to kill him, even though he is a quadriplegic, so it is still a happy ending.
ALFIE: No American director or writer can handle this delicate subject matter with the irreverence and respect it needs.
ABE: It will be one patronizing, politically correct hagfest, no doubt. And though I am thrilled for Harvey Weinstein having recaptured his Miramax glory days, but like any Greek tragedy, mistakes will be made to bring down the dynasty.
ALFIE: I hope not with this film.
ABE: Harvey will oversee this remake with a vengeance. And since America's version of a quirky film will surely permeate, one can only imagine the worst, blandest nonsense.
ALFIE: What a shame.
ABE: Word is that Paul Feig, who directed Bridesmaids may helm the project.
ALFIE: No!
ABE: Subtle? Not in this guys vernacular. He should focus on Bridesmaids II and leave this and well enough alone. He will destroy The Intouchables.
ALFIE: Oh, Harvey.
ABE:I love Bergdorf's windows.
My review of The Intouchables, May 16, 2012
Every so often a sweet, little movie comes along and warms the cockles of your heart. It makes you laugh, makes you cry and makes you appreciate whatever hand life has dealt you. The Intouchables is that kind of film. Based on a true story of friendship between a handicapped billionaire (Francois Cluzet) and his street smart ex-con caretaker (Omar Sy), The Intouchables depicts an unlikely camaraderie rooted in honesty and humor between two individuals who, on the surface, would seem to have nothing in common. (Note: Omar Sy won the French equivalent of the Oscar, the first black actor to do so.)
Don't you hate when people talk up a movie and say how great it was and then with that level of expectation, it dampens your experience when you go see the film? At the risk of doing just that, I want to say that this movie should be seen… period. I am not going to tell you how tender and immaculate the performances are, especially by Mr. Sy, playing a Bengali adoptee that finds himself in the employ of this lovely gentlemen, suffering the worse fate, becoming quadriplegic from a hang gliding accident. Nor will I expound on how the simplicity of the script makes it so easy to fall in love with these two characters in a buddy film to end all buddy films. Charming, delightful, spirited, heartwarming, delicious, these adjectives apply to movies like The Artist and Slumdog Millionaire. However, if you ask me, which you are not, those films barely hold a candle to The Intouchables. There, I hope I haven't ruined it for you. Just go see it.
httpv://youtu.be/34WIbmXkewU